SkinMedica® Vitalize Peel®
The chemical peel St. Louis talks about!
SkinMedica® Vitalize Peel®
You'll see results after just one peel!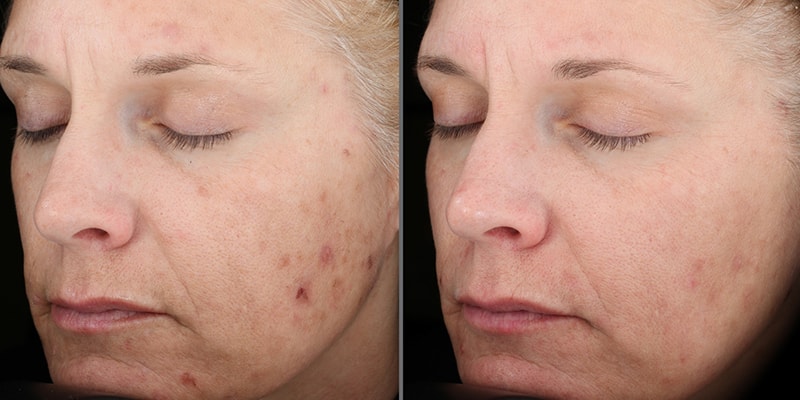 Vitalize Your Skin With A SkinMedica® Vitalize Peel®
The SkinMedica® Vitalize Peel® smooths the appearance of your facial complexion. The renewal process stimulates collagen production, and improves pigmentation, acne, and melasma.
What Is A Chemical Peel Facial?
A chemical peel is a treatment applied to the face to remove damaged outer layers of skin. By removing or peeling these layers, the facial skin is enhanced and smoothed to reveal revitalized, youthful-looking skin.
Chemical peels typically do not have any serious side effects, although some risks do exist such as swelling, scarring, and infection. Following our trained staff's instructions completely and disclosing all medical history, will reduce risks.
The ingredients in the Vitalize Peel are: 
Salicylic Acid
Resorcinol
Lactic Acid
Retinol
How Does The Vitalize Peel® Work?
The SkinMedica® Vitalize Peel® is a superficial chemical peel that uses lactic acid, salicylic acid, resorcinol, and retinoic acid. It offers a dramatic improvement in texture and tone. The lactic acid acts as an exfoliant and skin conditioner. While the salicylic acid improves collagen production and the thickness of the skin. Resorcinol is used an antiseptic and when used together, these ingredients work to improve overall complexion.
This complete treatment takes an hour, with the application procedure taking about 20 minutes.  During the procedure, you may experience a mild burning sensation, but it will not continue after the procedure is finished.
Patients will experience no shedding for 24-48 hours but can experience shedding or peeling thereafter for up to five days. If you're allergic to salicylic acid or aspirin, you should not use this specific type of chemical peel. After receiving the peel, patients sometimes have a yellowish tint on the skin from the retinol, although it typically only lasts 2-3 hours. Redness can also occur, depending on the patient.
Patients can immediately return to work since there's no expected downtime with this peel. Makeup can even be applied following the treatment, although sweating should be avoided. Use sunscreen to avoid sunburns since your skin will be more susceptible when exposed to sun.
Get improved texture and tone
It only takes an hour to look better!
Enhanced Results
Patients will see immediate results following the Vitalize Peel®, with their skin looking tight and revitalized right away. The Vitalize Peel® exfoliates the skin deeply, allowing results to last for months. To enhance and maintain the best results possible, treatments should be repeated every three to four weeks.
Prior to a treatment a consultation is required. Patients should read the consent form to determine what to avoid days to weeks prior to the chemical peel application. Shedding can occur for 5-7 days; this can vary in duration and intensity for each patient. Sun precaution and SPF with zinc oxide and/or titanium dioxide is required during post care.
Who Is Eligible To Receive The Vitalize Peel®?
All skin types can receive the Vitalize Peel® treatment. It's specifically helpful for patients with sun damage, freckles, acne scarring, melisma, and post inflammatory hyperpigmentation. However, pregnant or lactating women should not use SkinMedica® peels. Patients who have recently received cancer treatments or taken Accutane for acne should avoid the Illuminize Peel®, as well as patients with open wounds, sunburns, sensitive skin, or other skin conditions.
If you're looking to get vibrant-looking skin, a Vitalize Peel® is for you! Exfoliate your skin, gain a uniform texture, and refresh your facial complexion.
Most of the SkinMedica® products described on this website are intended to meet the FDA's definition of a cosmetic product, an article applied to the human body to cleanse, beautify, promote attractiveness, and alter appearances. These SkinMedica® products are not intended to be drug products that diagnose, treat, cure, or prevent any disease or condition. These products have not been approved by the FDA and the statements on these pages have not been evaluated by the FDA.